Womens Detention Center
Probation Detention Center
Additional Information
womens-dc.jpg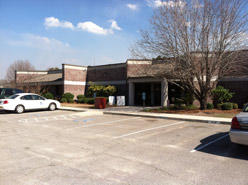 CAPACITY: 236 
OPENED: 1992
RENOVATED: 2007
VISITATION DAYS / HOURS:
HOURS: 9:00AM TO 3:00PM 
DAYS:Alternated Visitation Days (Saturday M-Z; Sundays A-L); State Holidays
MISSION:
Provide a sanctioning option for probationers who require more security or supervision than that provided by regular community supervision. Centers are highly structured with regimented schedules that include supervised, un-paid work in surrounding communities and programming geared toward making offenders more successful in the community. A six-acre property opened in 1992, Women's Probation Detention Center was the state's first detention center for female offenders. The operational theme is "Women Working" and it combines rehabilitative programs, community service, self-discipline and labor in order to improve self-confidence, independence and respect for one's self and for others. Smith State Prison is the host facility.
HOUSING:
Four open dormitories with bunk beds.
WORK DETAILS:
Detail assignments include: Cities of Claxton, Pembroke, Richmond Hill, Evans County & Vidalia as well as for the Bryan County Recreation Department and the Evans & Tattnall County School systems. Special projects have included annual help in preparation for Glennville's Sweet Onion Festival & Claxton's for Rattlesnake Roundup held in March and assistance with local government projects as needed. Restoration efforts include the city of Collins gymnasium, along with the restoration and maintenance of the DeLoach home in Hagan.
PROGRAMS:
Academic: General Education Diploma, Adult Basic Education
Counseling: Pre-Release, Re-Entry, Women's Health Issues, Mind Over Mood, Mental Health Group, Motivation For Change, Alcoholics Anonymous/Narcotics Anonymous
Recreation: General Recreation
Religious Activities: Various Worship Services And Bible Study
DIRECTIONS:
Take I-75S through Macon. From Macon take I-16S for approximately 12 miles to Exit #116. Women's Probation Detention Center is located 9.3 miles South of Exit 116 on Hwy 301 South on the left.