Wilcox State Prison
State Prison
Additional Information
wilcox.jpg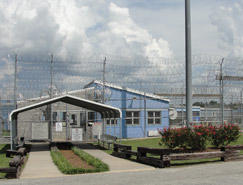 CONSTRUCTED: 1993
CAPACITY: 1827
OPENED: 1994
SECURITY LEVEL: MEDIUM
VISITATION DAYS / HOURS:
HOURS: 9:00AM TO 3:00PM
DAYS: Saturdays, Sundays, and State Holidays
MISSION:
Ensure public safety and effectively house offenders while operating a safe and secure facility by housing medium security, general population inmates who may not be suitable for a county facility due to their offense or physical limitations. Host facility for the Turner Residential Substance Abuse Treatment Facility.
HOUSING:
Consists of four and one-half buildings with 120 per dorm in 24 double-bunked and 24 triple-bunked cells each. Three housing units consist of four open dormitories, two housing approximately 48 per dorm and the other housing approximately 94 per dorm. There are 22 isolation cells and 24 double-bunked segregation cells. This facility also houses a C.E.R.T. Team, Tactical Squad and a Fire Station.
OPEN DORMITORY
DOUBLE AND TRIPLE CELLS
WORK DETAILS:
Maintenance, General Labor, Food Service, Grounds Maintenance, Georgia Department of Transportation, Laundry & Custodial Maintenance, Fire Station, Cordele Contract Detail 1 & 2, Farmers Market Contract Detail, Abbeville City Contract Detail
PROGRAMS:
Academic: General Education Diploma, Adult Basic Education, English as a Second Language, Literacy and Remedial Reading
Counseling: Motivation for Change, Thinking for a Change, Alcoholics Anonymous/Narcotics Anonymous, Moral Reconation Therapy, Re-Entry, Matrix Early Recovery Skills, Sex Offender Psycho-Educational Program (SOPP)
Recreation: General Recreation
Religious Activities: Various Worship Services and Counseling
Vocational/OJT: Food Preparation, Teacher Aide, Barber, Warehouseman and Laundry
DIRECTIONS:
Take I-75S to Exit 101, Cordele/Abbeville/Hwy 280 and exit onto GA-280 east. Travel approximately 30 miles to Abbeville to the traffic light and turn right onto US-129. Travel approximately ? mile, go across the bridge and Wilcox State Prison is on the left.