Washington State Prison
State Prison
Additional Information
Washington_sp.jpg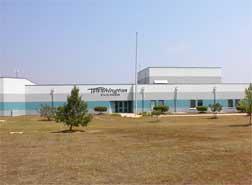 CONSTRUCTED: 1991
CAPACITY: 1548
OPENED: 1991/Males, 1992/Females, 2005/Males
SECURITY LEVEL: MEDIUM
VISITATION DAYS / HOURS:
HOURS: 9:00AM TO 3:00PM
DAYS: Saturdays, Sundays, and State Holidays
MISSION:
Ensure public safety and effectively house offenders while operating a safe and secure facility. Provide housing and programming for general population male offenders (minimum & medium security). Washington State Prison also has an in-house transitional program.
HOUSING:
Eleven general population dorms with 2 and 3 man cells. One isolation/segregation dorm housing 92 inmates with 1 and 2 man cells. One 200 bed Annex with four, 50 bed open bay dormitories. This facility also houses a C.E.R.T. Team and a Tactical Squad.
ANNEX/OPEN DORM ENVIRONMENT
DOUBLE/TRIPLE CELLS
WORK DETAILS:
Correctional Industries, Kitchen, Farm (2), Maintenance, Laundry and various orderly details. The Annex provides: Department of Transportation Detail, Central State Hospital (2), Outside Grounds Detail, Vehicle and General Maintenance, Composting, Trash Detail, and Annex Rear Gate.
PROGRAMS:
Academic: Literacy Remedial, Adult Basic Education, General Education Diploma
Counseling: Motivation for Change, Family Violence, Pre-Release Program, Thinking for a Change, Moral Reconation Therapy, Matrix Relapse Prevention, Matrix Early Recovery, Re-Entry, Sex Offender Psycho-Educational Program (SOPP)
Recreation: General Recreation, Intramural Sports
Religious Activities: Bible Study, Various Worship Services to include Jehovah Witness, KAIROS, Catholic Mass, Jumah, Taleem, Bible Study, Narcotics Anonymous, Alcoholics Anonymous
Vocational/OJT: Computer Technology/Customer Service, Custodial Maintenance, Food Service Warehouse, Library Clerk, Grounds Maintenance, Barbering, General Office Clerk, Industry GCI, Sanitation Services
DIRECTIONS:
Take I-20 East to Siloam Exit, #138. Turn right onto Hwy 15 through Sparta and on to Sandersville. Turn left at second traffic light in Sandersville onto Hwy 24 East to Davisboro (approximately 15 miles); Washington State Prison is on the left.