Ware State Prison
State Prison
Additional Information
ware-sp.jpg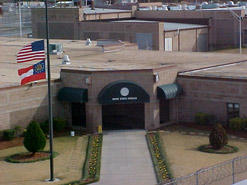 CONSTRUCTED: 1989
CAPACITY: 1546
OPENED: 1990
SECURITY LEVEL: CLOSE
VISITATION DAYS / HOURS:
General Population:
Days: Saturday, Sunday, and all State Holidays
Hours: 9:00AM - 3:00PM - (Check-in begins at 8:30a.m.)
Tier II Visitation Hours:
Monday through Friday
Hours: 8:30 a.m. - 10:30 a.m. and 11:00 a.m. - 1:00 p.m.
Must call for an appointment at least 1 day prior: Ms. Thrift 912-285-6434
MISSION:
The Georgia Department of Corrections protects the public by operating safe and secure facilities through the development of professional staff and effective offender management.
HOUSING:
Consists of eight housing units with 50 double cells each.  Infirmary has 12 beds, Segregation has 150 beds. A Fast Track Unit contains four dormitories with 54 beds each.  Old Ware consists of 112 beds and I building consist of four dorms for a total of 256 beds.
OPEN DORMITORY
SINGLE CELLS
WORK DETAILS:
Ware County 1 & 2, Pierce County, City of Waycross 1 & 2, City of Blackshear, Department of Transportation, Georgia State Patrol, 2 Perimeter details, Recycling, Fabrication, Canine, Back Gate, 2 Outside Ground Maintenance, Fire Team, Mobile 5, Glynn County.
SEX OFFENDER RELEASE SITE
CANINE UNIT
CORRECTIONS EMERGENCY RESPONSE TEAM
OPEN DORMITORY
TACTICAL SQUAD
FIRE TEAM 
SINGLE CELLS
CLOSE
PROGRAMS:
Academic: Literacy Remedial, Adult Basic Education, General Education
Counseling: Family Violence, Re-Entry, Moral Recognition Therapy, Sex Offender Psycho Educational Program (SOPP), Motivation for Change, Thinking for a Change, Career Center, Matrix Relapse Prevention, Alcoholics Anonymous, Detours, Individual Counseling, Lifers Group, Matrix Early Recovery Skills, Narcotics Anonymous
Recreation: General Recreation
Religious Activities: Various Worship Services, Bible Study
Vocational/OJT: Upholstery, Carpentry, Food Service, Electronics, CADD, Building Maintenance, Vehicle Maintenance, Welding, Culinary Arts, Barbershop, Horticulture, Boot Repair, Diesal Mechanics
DIRECTIONS:
Take I-75S to Tifton. Exit at US-82 and turn left. Follow US-82 to Ware County, approximately 65 miles to Ware County Airport Exit. Turn left onto Fulford Road. At end of Fulford Road, turn left onto Harris Road and follow the signs to Ware State Prison.