Smith Transitional Center
Transitional Center
Additional Information
smith_tc.jpg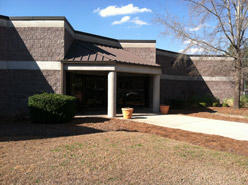 CONSTRUCTED: 1993
CAPACITY: 213
OPENED: 2007
MISSION:
To protect the community while assisting residents in making successful transitions back into society. Provide social and employment skills in a structured environment. Smith State Prison is the host facility.
HOUSING:
Four open dormitories with bunk beds.
WORK DETAILS:
Residents are assigned to the work release program at the Poultry Processing Plant.
PROGRAMS:
Counseling: Individual Counseling, Family Violence, Detours, Re-entry, Motivation for Change, Matrix, Vocational Rehabilitation, Easter Seals.
Recreation: General Recreation, Physical Health
Religious Activities: Various Worship Services, Bible Study, Pastoral Counseling
Vocational/OJT: Poultry Processing
DIRECTIONS:
Take I-75S to I-16E to Exit #116, Hwy 301 South to Claxton. Smith State Prison will be on the right approximately 13 miles south of Claxton and two miles before Glennville on Hwy 301. Use the second (front) entrance to access the prison.