Smith State Prison
State Prison
Additional Information
smith_sp.jpg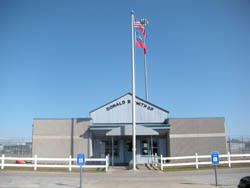 CONSTRUCTED: 1993
CAPACITY: 1526
OPENED: 1993
VISITATION DAYS / HOURS:
HOURS: 9:00AM TO 3:00PM
DAYS: Saturdays, Sundays, and State Holidays
Please contact facility for Tier visitation hours.
MISSION:
Ensure public safety and effectively house offenders while operating a safe and secure facility by providing a structured environment for offenders through the utilization of work and program resources. House offenders with behavioral problems that cannot be addressed at other institutions. Operates a Correctional Industries Plant and a Georgia Correctional Industries Warehouse. Host facility for Long Unit, Women's Probation Detention Center and Smith Transitional Center. This is a Tier I & II facility, STEP DOWN program.
HOUSING:
16 general population housing units and one administrative segregation/isolation building. 11 of the 16 housing units has 48 cells, 43 of the cells are capable of housing 2 offenders per cell while the remaining 5 are capable of housing 3 offenders per cell for a total of 101 offenders per unit. One housing unit has 48 cells, which are capable of housing 2 offenders per cell for a total of 96 offenders per unit. Four of the sixteen housing units are open dormitory each housing unit consists of 32 double beds for a total of 64 inmates per unit. This facility also houses a C.E.R.T. Team,  Fire Station and a Tactical Squad.
OPEN DORMITORY
SINGLE CELLS
WORK DETAILS:
Recycling, Maintenance Shop detail, Grounds detail, Warehouse detail, Georgia Correctional Industries (GCI).
PROGRAMS:
Academic: General Education Diploma, General Education Diploma Testing, Adult Basic Education, Literacy Remedial, Associates Degree through Ashland University
Counseling: Individual, Moral Reconation Therapy, Family Violence, Re-Entry, Motivation for Change, Thinking for a Change, Confronting Self, Relapse Prevention, Sex Offender Psycho-Educational Program (SOPP), Active Parenting, Lifers Group, Early Recovery Skills.
Recreation: General Recreation
Religious Activities: Various Worship Services, Bible Study
Vocational/OJT: Correctional Industries - Custom Screen/Sign Industry, Building & Industrial Maintenance, Laundry, Grounds Keeping, Food Service, Clerical, Barbering, Cook's Apprentice, Custodial Maintenance, Electrical Helper, Career Clerk, General Office Clerk, Horticulture, Bee Keeping, O.U.T. (Offenders under Transition) Program
DIRECTIONS:
Take I-75 south to I-I6 East to Exit 116, Hwy 301 South to Claxton. Smith State Prison will be on the right approximately 13 miles South of Claxton and two miles before Glennville on Hwy 301. Use the second (front) entrance to access the prison.