Rutledge State Prison
State Prison
Additional Information
Rutledge State Prison.jpeg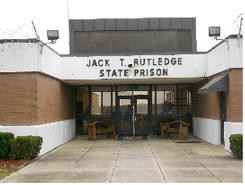 CONSTRUCTED: 1976
CAPACITY: 640
OPENED: 1976
 
VISITATION DAYS / HOURS:
HOURS: 9:00AM TO 3:00PM
DAYS: Saturdays, Sundays, and State Holidays
MISSION:
Rutledge State Prison along with the Department of Corrections creates a safer Georgia by effectively managing offenders and providing opportunities for positive change. Host facility for Columbus & Charles D. Hudson Transitional Centers.
HOUSING:
There are six living units, each containing four pods and each pod contains 12 two-man cells. There are also 30 beds in the dayrooms, 32 isolation/segregation beds, and two beds in the medical section for Mental Health Observation. This facility also houses a C.E.R.T. Team and a Tactical Squad.
WORK DETAILS:
Work details include outside grounds & maintenance, food service & orderly jobs at the Columbus Transitional Center and several in-house support details.
PROGRAMS:
Academic: General Education Diploma, Adult Basic Education, Remedial Reading
Counseling: Anger Management, Stop The Sadness, Schizophrenia Education, Parenting, Current Events, Advanced Mood Disorder, Motivation for Change, Reach One/Teach One, Post-Traumatic Stress Disorder (PTSD), Problem Solving, Family Violence, Cognitive Behavior, Re-Entry, Thinking for a Change, Alcoholics Anonymous/Narcotics Anonymous, Reasoning & Rehabilitation, Horticulture, Lifers Group, Moral Reconation Therapy
Recreation: General Recreation, Wellness Walk
Religious Activities: Various Worship Services, Bible Study, Pastoral Counseling
Vocational/OJT: Food Preparation, Laundry Operations, Barbershop, Warehouse, General Office Clerk, and Custodial Maintenance
DIRECTIONS:
Take I-85S to I-185 to Columbus. From I-185 take Exit 10, SR-22/US-80 East/J.R. Allen Pkwy, North Columbus Bypass. From US-80 East/J.R. Allen Pkwy travel approximately 6.8 miles. At the 4th traffic light turn right onto Flat Rock Road. Flat Rock Road crosses Macon Road and becomes Schatulga Road. Travel approximately two miles and turn left onto Manor Road. Rutledge State Prison is on the left.