Pulaski State Prison
State Prison
Additional Information
pulaski_sp.jpg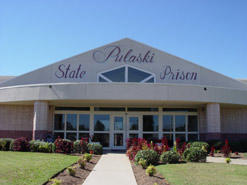 POPULATION: ADULT FEMALE FELONS
CONSTRUCTED:1994
CAPACITY:1223
OPENED: 1994
SECURITY LEVEL: MEDIUM
RENOVATED: 1998
VISITATION DAYS / HOURS:
HOURS: 9:00AM TO 3:00PM
DAYS: Saturdays, Sundays, and State Holidays
MISSION:
Ensure public safety by effectively managing offenders and providing opportunities for positive change. House female offenders of all security levels; maintains an in-house, six month Residential Substance Abuse Treatment (RSAT) program, supports a Correctional Industries garment plant, houses Level II outpatient Mental Health offenders as well as a Faith and Character Based Living Unit. Host facility for the Bleckley Probation Detention Center and release site for Sex-Offenders.
HOUSING:
Consists of four buildings with 48 double rooms to house up to 96 per building; two buildings with double and triple rooms to house up to 120 per building, one building has single and double rooms and houses up to 106 offenders; eight of those rooms are handicap-accessible rooms. One building houses up to 30 isolation/segregation cells for up to 43 offenders along with an intake unit, which houses 58. Two buildings consisting of 96 double- bunked rooms up to 192 per building. This facility also houses a C.E.R.T. team.
WORK DETAILS:
Correctional Industries Garment Plant, Grounds Maintenance, Custodial, Laundry, General Maintenance, Food Service, Contract Details, Education & Vocational Aides, Library & Law Aides, Vehicle Maintenance, Warehouse, Horticulture, Equine Rescue
PROGRAMS:
Academic: Education Diploma, Adult Basic Education, Literacy And Title I
Counseling: Active Parenting, Family Violence, Behavior Stabilization, Re-Entry, Confronting Self, Sex Offender Psycho-Educational Program, Thinking For A Change, Children's Center, Alcoholics Anonymous/Narcotics Anonymous, Residential Substance Abuse Center, Motivation For Change, Career Center, Moral Reconation Therapy
Recreation: General Recreation
Religious Activities: Various Worship Services, Bible Study, Choir, Islamic Studies, Pastoral Counseling and Kairos
Vocational/OJT: Law, Library Aides, Cosmetology, Culinary Arts, General Office Clerk, Computer Technology, Customer Service, Food Service, Horticulture, Laundry, Grounds-keeping, Custodial & Vehicle Maintenance, Plumbing, Garment Worker, Veterinary Assistant, Graphic Arts
DIRECTIONS:
Take I-75S to Exit 135. Take US-341 to Hawkinsville. Cross the Ocmulgee River Bridge and travel ? mile. Turn left onto SR-26 and travel ? mile. Turn left onto Upper River Road. Pulaski State Prison is two miles on the left, use the second driveway.