Phillips Transitional Center
Transitional Center
Additional Information
Phillips Transitional Center.jpeg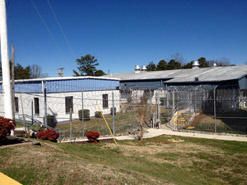 CAPACITY: 204
OPENED: 2008
MISSION:
Assist residents in making a successful transition back into the community by providing social and employment skills. Phillips State Prison is the host facility.
HOUSING:
Four dorms with 75 beds each with a percentage of the beds identified for residents with special needs.  Beds in each dorm Dorm 1-48 beds, Dorm 2-60 beds, Dorm 3-48 beds, Dorm 4-48 beds. Total beds 204.
WORK DETAILS:
All residents are assigned as work release residents.
PROGRAMS:
Academic: General Education Diploma, Adult Basic Education
Counseling: Pre-Release, Work Adjustment, Health Awareness, Employment & Job Readiness, Work Adjustment
Recreation: General Recreation
Religious Activities: Various Worship Services and Bible Study
DIRECTIONS:
Take I-85N to the Hamilton Mill Road Exit. Turn left onto Hamilton Mill Road and then right onto Sardis Church Road. Continue on Sardis Church Road for approximately 1 mile and then turn left on West Rock Quarry Road, Phillips TC is located behind Phillips SP.