Phillips State Prison
State Prison
Additional Information
Phillips State Prison.jpeg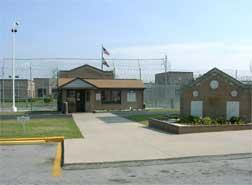 CONSTRUCTED: 1988
CAPACITY: 918
OPENED: 1990
VISITATION DAYS / HOURS:
HOURS: 9:00AM TO 3:00PM
DAYS: Saturdays, Sundays, and State Holidays
MISSION:
Ensure public safety and effectively house offenders while operating a safe and secure facility by housing inmates who have had management problems at other prisons or centers and those who could pose a risk if housed elsewhere. Provides all levels of Mental Health service to include Level IV, Crisis Stabilization. Host facility Atlanta Medical Center and Phillips Transitional Center.
HOUSING:
Consists of 10 living units, each with two dormitories. The number of units with two-man cells is seven and a half while the remainder is a combination of two single-man cells. The combination two-single man cells houses MH/SM inmates. There are a total of 100 isolation/segregation cells. The Phillips State Prison Transitional Center has 310 beds. This facility also houses a Special Management Unit (SMU), a C.E.R.T. Team, Tactical Squad, and Canine Unit
WORK DETAILS:
A total of 10 work details are provided to surrounding cities and counties. Additional details work on the outside grounds of Phillips. Additional details work on the outside grounds of Phillips and include Georgia Correctional Industries.
PROGRAMS:
Academic: General Education Diploma, Adult Basic Education, Special Education, Literacy Remedial
Counseling: Motivation For Change, Thinking For A Change, Moral Reconation Therapy, Lifers, Family Violence, Re-Entry, Alcoholics Anonymous/Narcotics Anonymous, Matrix Relapse Prevention, Matrix Early Recovery Skills, Thinking for a Change, In-Reach dorm, Mental Health Groups, Faith & Character Based program and reentry
Recreation: General Recreation
Religious Activities: Worship Services, Scriptural Studies, Confronting Self, Pastoral Care/Counseling, Inmate Hospice Care, Truett McConnell University
Vocational/OJT: Auto Body, Auto Mechanics, Welding, Small Engine, Barbering, Woodworking, Food Preparation, Printing, Building & Custodial Maintenance, Career Clerk, General Office Clerk (Library), and Laundry Operations
DIRECTIONS FROM ATLANTA:
Take I-85N to Exit 120, Hamilton Mill Pkwy and turn left. Make the first right onto Sardis church Road. Go approximately ? mile and turn left onto West Rock Quarry Road. Phillips State Prison is approximately ? mile on the right.