Paulding
Probation Detention Center
Additional Information
Paulding.jpeg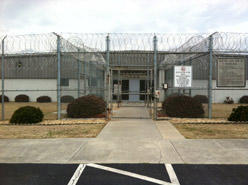 CAPACITY: 260
OPENED: 2000
VISITATION DAYS / HOURS:
HOURS: 9:00AM to 3:00PM
DAYS:Alternated Visitation Days (Saturday M-Z; Sundays A-L); State Holidays
MISSION:
Provide a sanctioning option for probationers who require more security or supervision than that provided by regular community supervision. Centers are highly structured with regimented schedules that include supervised, un-paid work in surrounding communities and programming geared toward making offenders more successful in the community. Serves as a sentencing alternative for the courts with adult male offenders either through probation revocation or direct sentence. Located on 10 acres donated by Paulding County, the facility opened in 2000. Hays State Prison is the host facility.
HOUSING:
Consists of four separate dorms with each dorm housing a total of 63 beds. There is a separate Administrative/Segregation Unit, which houses eight beds.
WORK DETAILS:
Other than a number of inside details that are utilized for the operation of the facility, there are 24 outside details: (1) City of Austell, (3) Bartow County, (3) Cobb County, (1) Department of Natural Resources, (1) Department of Transportation Bartow County, (1) Department of Transportation Chester Ave, (1) Department of Transportation Cobb County, (3) City of Dallas, (1) Paulding County, (1) City of Hiram, (2) City of Rockmart, (2) City of Tallapoosa, (1) Polk County, (1) Rockmart Police Department, (1) DPS and (1) City of Douglasville.
PROGRAMS:
Academic: General Education Diploma, Remedial Education
Counseling: Individual & Group Counseling, Family Violence, Victim Impact, Positive Parenting, Motivation For Change, Re- Entry, Celebrate Recovery (12 Step Group)
Religious Activities: Various Worship Services
Vocational/OJT: Maintenance, Food Service
DIRECTIONS:
Take I-20W to the Thornton Road Exit, exit 44. Turn right and go approximately 17 miles. Turn right onto Nathan Dean Blvd. Turn left onto Merchants Drive. Turn right onto Legion Drive and right again on East Memorial Hwy/State Route 381. Go approx. 2 miles and turn left onto Industrial Boulevard and Paulding PDC is on the left.