Metro Transitional Center
Transitional Center
Additional Information
Metro Transitional Center.jpeg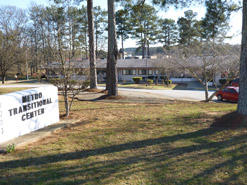 CONSTRUCTED: 1981
CAPACITY: 235
OPENED: 1982
SECURITY LEVEL: MINIMUM
RENOVATED: 1989
MISSION:
To assist residents in making successful transitions back into the community by providing therapeutic counseling and social and employment skills.
HOUSING:
Three building with rooms containing three to four beds totaling 234. Building A and B accommodate all advanced Phases III and long term maintenance residents. Building C accommodates all orientation, Phase I, Phase II, and Guide Dog residents.
WORK DETAILS:
Provides work release throughout the Metropolitan area. Long term maintenance residents are assigned as permanent workers for Helms Facility and other Government facilities.
PROGRAMS:
Academic: General Education Diploma, Adult Basic Education, Literacy Remedial, CA
Counseling: Alcoholics Anonymous, Narcotics Anonymous, Moral Recognition Therapy, Motivation For Change, Relapse Prevention, Family Violence, Battered Women, Intensive Individual Counseling, Therapeutic Counseling, Work Release, Community Pass, Job Readiness, STD/HIV, Health Education, Parenting, Grief Loss & Healing, Relationships Group, Career Development, Goal Setting & Achievement, Wise Money Management, Art Appreciation, Matrix, Fatherhood Program, DETOUR, Basic World of Works
Recreation: Various Worship Services, Bible Study, Pastoral Counseling, Choir
Religious Activities: Vision Program (guide dog), Career Center
DIRECTIONS:
Take I-20E towards Augusta, take the Moreland Avenue South Exit and turn right. Travel approximately six miles and look for the Overnight Truck Transport Company on the right side of Moreland Avenue and turn left onto Bailey Street. At the four-way stop keep straight. At the fork in the road, bear to the right. Cross the railroad tracks and Metro Transitional Center is approximately ??? mile on the right.