Macon Transitional Center
Transitional Center
Additional Information
Macon Transition Center.jpeg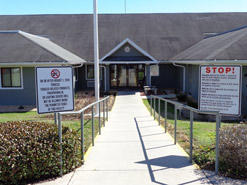 CONSTRUCTED: 1993
CAPACITY: 156
OPENED: 2008
MISSION:
House offenders in a safe and supportive setting that creates opportunities for positive change and reinforces moral behavior and meaningful employment, which facilitates appropriate community housing and successful citizenship within the community to which they return. Central State Prison is the host facility.
HOUSING:
Fifty-two (52) triple-bunk beds.
WORK DETAILS:
12- offenders assigned to the Fleet Long-term Maintenance Program, 6 offenders assigned to the Centers Long-term Maintenance Program for Food Service, Sanitation, Building Maintenance, Grounds Keeping, Laundry, Barbering. The remaining beds available for offenders assigned to the work release program are 138.
PROGRAMS:
Academic: General Education Diploma, Adult Basic Education, College Correspondence Programs, DUI- School, Career Center
Counseling: Individual, Job Readiness, Re-entry Skills Building, Work Release, Vocational Rehabilitation, Residence Planning, Family Reintegration, DETOURS, Fatherhood Program, Alcoholics Anonymous/Narcotics Anonymous, Matrix, Smoking Cessation, AIDS/HIV, Early Recovery, Mentoring Project, Volunteer Supportive Counseling
Recreation: Family Days, General Recreation, Basketball, Horseshoes, Volleyball, Chess, Checkers, Dominos
Religious Activities: Bible Study, Chaplain Counseling Services, Worship Services
Vocational/OJT: Food Service, Barbershop, Laundry, General Maintenance, General Clerk
DIRECTIONS:
Take I-75S to Macon, exit right on exit 162 , take left on Eisenhower Parkway, exit left on to Broadway and make quick right on to Fifth Street , take next right on to Henry Street. We are straight ahead.