Additional Information
Long State Prison.jpeg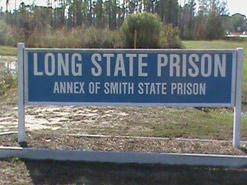 CONSTRUCTED: 2004
CAPACITY: 212
OPENED: 2004
RENOVATED: 2002
VISITATION DAYS / HOURS:
HOURS: 9:00AM TO 3:00PM
DAYS: Saturdays, Sundays, and State Holidays
MISSION:
Ensure public safety and effectively house offenders while operating a safe and secure facility. Provides general labor and courtesy details to surrounding counties. Offers academic, vocational and on-the-job training (OJT) programs, along with cognitive behavior groups and re-entry classes to afford offenders the opportunity to enter back into society with the tools needed to become a productive citizen, thus reducing recidivism.
HOUSING:
Four open dormitories with bunk beds housing 50 in two dorms and 54 in the other two dorms. We also have four Isolation and Segregation cells. Smith State Prison is host facility. This facility also houses a Fire Station.
WORK DETAILS:
Jesup City II, III, IV, Wayne County, Long County, Liberty County/Liberty II, Glynn County/D.O.T. Road Detail, Bryan County Recreational Center I & II, Fire Station, Brunswick State Patrol, Hinesville State Patrol, Long County Sheriff, Ludowici Police Department, Wayne County Court House, Jesup City Shop, Department Of Transportation Weigh Station
PROGRAMS:
Academic: Adult Basic Education, General Education Diploma, Literacy
Counseling: Re-Entry, Motivation for Change, Career Center, Lifers Group, Interest Profiler, Moral Reconation Therapy, Sex Offender Psycho-Educational Program (SOPP), Money Smart, Thinking for a Change, Matrix Model Early Recovery Skills
Recreation: General Recreation
Religious Activities: Various Worship Services, Bible Study
Vocational/OJT: Food Preparation, Barbering, Recycling, Teacher/Library Aides, Laundry, Waste Water Treatment, Custodial & Building Maintenance, Career Clerks, Grounds Keeping, Auto Maintenance, Service Station Attendant, Basic Computer, Auto Detailing, Warehouse Forklift
DIRECTIONS:
DIRECTIONS FROM ATLANTA: Take I-75S to I-16E to exit #116, Hwy 301 south towards Claxton. Travel approximately 50 miles to the city of Ludowici, make a left at the traffic light onto Hwy 84 and Long State Prison is 1 ? miles on the right.