Helms Facility
State Prison
Additional Information
Helms Facility.jpeg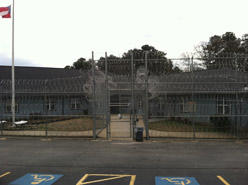 CAPACITY: 64
OPENED: 1990
RENOVATED: 2005 & 2011
DESCRIPTION:
Helms Facility is a 100 bed dual gender institution. Helms is operated under the direction of the Georgia Department of Corrections.
MISSION:
Helms Facility protects and serves the public as a professional organization of the Georgia Department of Corrections. Helms will effectively manage both pregnant females and medically challenged males. Helms will provide adequate medical care for both populations and maintain a safe and secure environment for the staff, inmates and the public.
HOUSING:
50 inmate rooms with two beds in each; two (2) rooms are handicap accessible.
WORK DETAILS:
Residents from Metro/Clayton T.C. Provides all work details for Helms Facility
PROGRAMS:
Academic: General Education Diploma & Adult Basic Education
Counseling: Moral Recognition Therapy, Active Parenting, & Motivation For Change
Medical: 24 hour medical care is provided along with specialty Services
Recreation: General Recreation
Religious Activities: Various worship services that are conducted by volunteers
DIRECTIONS:
Take I-20E, exit at Moreland Avenue South and turn right. Travel approximately four miles and turn left onto Bailey Street which is directly across from the Overnight Truck Transport. Keep straight on Bailey until it turns into Constitution Road; Go over the railroad tracks and Helms Facility is on the right.