Hancock State Prison
State Prison
Additional Information
Hancock State Prison.jpeg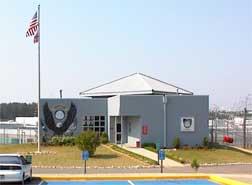 CONSTRUCTED: 1990
CAPACITY: 1,191
OPENED: 1991
VISITATION DAYS / HOURS:
General Population:
Days: Saturday and Sunday
Hours: 9:00AM - 3:00PM
State Holidays Hours:
Days: Saturday and Sunday
Hours: 9:00 AM - 3:00 PM (General Population only)
Tier I and Tier II:
Days: Tuesday and Thursdays
Hours: 9:00AM - 11:00AM
MISSION:
Provides housing for males eighteen years of age and older who have been convicted of serious crimes. Provides academic, vocational, substance abuse, and other program services for this population. Medical Services offered on a 16 hour, four day week with 12 hour weekend coverage. Offers Vegan and Child Nutrition program, and houses an In-House Transitional Center Facility. This is a Tier I & II facility. GCI Plant.
HOUSING:
9 general population dormitories housing 96 each; 2 segregation units with a combined total of 133 beds: J Unit, 1 open bay tent housing unit housing 70 inmates; Annex contains 4 open bay dorms housing 50 inmates each. This facility also houses a C.E.R.T. Team, Tactical Squad and a Fire Station.
IN-HOUSE TRANSITIONAL CENTER
VEGAN DIET FACILITY
WORK DETAILS:
City and County contract and non-contract details. Institutional work details include inside and outside maintenance, Fire Station, yard orderlies, barbershop, library, food service, sanitation, laundry operations, and dorm orderlies.
PROGRAMS:
Academic: General Education Diploma, Adult Basic Education, Literacy Remedial
Counseling: Motivation for Change, Re-Entry, Matrix Early Recovery Skills, Family Violence, In-House Transition Center, Moral Reconation Therapy, Thinking for a Change, Relapse Prevention, Individual Counseling, Career Center, Confronting Self, Sex Offender Psycho-Educational Program (SOPP)
Recreation: General Recreation, Intramural Sports
Volunteer Services: Heads-Up, AA
Religious Activities: Activities: Seventh Day Adventist, Jehovah Witness, Catholic, Protestant, General Services, Jumah and Talim services weekly. Bill Glass and KAIROS ministries.
Vocational/OJT: Food Service, Laundry, Barber, Maintenance, Firefighting, GCI, Laundry, Grounds Maintenance, Custodial Maintenance, Career Center, and General Clerk
DIRECTIONS:
I-20E to Exit 138 then turn right. Left onto Highway 15 South to Sparta (25 miles). Turn left at Courthouse and follow Highway 15 through Sparta, bear right onto Highway 15 toward Sandersville. Take a right at the BP Station onto Cody Johnson Road. Proceed about two miles and Hancock SP is on the right.