Dooly State Prison
State Prison
Additional Information
dooly_sp.jpg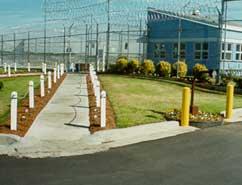 CONSTRUCTED: 1993
CAPACITY: 1702
OPENED: 1994
SECURITY LEVEL: MEDIUM
VISITATION DAYS / HOURS:
HOURS: 9:00AM TO 3:00PM
DAYS: Saturdays, Sundays, and State Holidays
MISSION:
Houses medium security, general population inmates that may not be suitable for a county prison due to their offense or physical limitations. Provides Medical, Counseling, Education, Recreation, Library, Chapel, Fire Services, Farm Services, and General Work Programs for all inmates assigned. Has a fully operational farm that produces fresh vegetables for shipping to state facilities. Sex Offender Release Site. Host Facility for the McEver Probation Detention Center.
HOUSING:
Operating capacity is 1702. Housing consists of nine living units of which the bottom range are 24 triple bunked cells and the top range are doubled-bunked cells 120 beds per dorm and one open living unit with four separate living areas, which contain 368 beds. There is one isolation/segregation unit that contains 71 beds. The Fast track Unit is double bunked and houses 256 beds. This facility also houses a C.E.R.T. Team, a Tactical Squad and a Fire Station.
WORK DETAILS:
Fire Fighter Services, Farm Services, Recycling, Building and Outside Grounds, Outside Maintenance, Outside Paint , Georgia National Fairgrounds, City of Warner Robins, Crisp County, Georgia State Patrol for Cordele and Perry.
PROGRAMS:
Academic: General Education Diploma, Adult Basic Education, Literacy Remedial
Counseling: Individual and Group Counseling, Sex Offender Psycho-Educational Program, Moral Recognition Therapy, Family Violence, Thinking for a Change, Lifers, Matrix Relapse Prevention, Matrix Recovery Skills, Ray of Hope, Re-entry Skills Building and TOPPSTEP.
Recreation: General Recreation
Religious Activities: Various Worship Services
Vocational/OJT:Food Service, Laundry, Painter, Warehouse, Sanitation, Horticulture, Maintenance Repair, Mechanic Helper, Electrical Helper, Plumber Helper, Recycling, and General Clerk Aide for Library/Education.
DIRECTIONS:
Take 1-75S, exit 122/Highway 230. Turn left and go through Unadilla. Approximately one mile past Unadilla, turn left onto Plunkett Road. Dooly State Prison in on the right.