Dodge State Prison
State Prison
Additional Information
Dodge_sp.jpg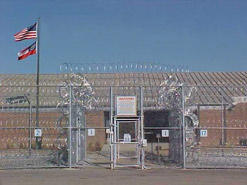 CONSTRUCTED: 1982
CAPACITY: 1,236
OPENED: 1983
SECURITY LEVEL: MEDIUM
RENOVATED: 1989
VISITATION DAYS / HOURS:
General Population:
Days: Saturdays, Sundays, and State Holidays
Hours: 9:00AM - 3:00PM
Inmates in Segregation:
Days: Tuesdays & Thursdays (no Holidays)
Hours: 9:00AM - 11:00AM
MISSION:
Ensure public safety and effectively house offenders while operating a safe and secure facility by providing work and rehabilitation programs for general population prisoners.
HOUSING:
Consists of 19 housing units divided into two 50-man dormitories (one of which is the isolation/segregation unit - 10 isolation beds and 40 segregation beds), one 36 man dorm, and one housing unit divided into four open dorms (Q1, Q2, Q3 holds 58 per dorm; Q4 holds 54) and two 12 man dorms (F and J buildings hold 12). This facility also houses a C.E.R.T. Team, Tactical Squad, Fire Station and a Canine Unit.
WORK DETAILS:
Nine off-property details, Correctional Industries Woodworking Furniture, Grounds Maintenance
PROGRAMS:
Academic: General Education Diploma, Adult Basic Education, Literacy Remedial
Counseling: Motivation for Change, Moral Recognition Therapy, Re-Entry, Family Violence, Thinking for a Change, Lifers Group, Matrix Relapse Prevention, Matrix Early Recovery Skills, Alcoholics Anonymous, Sex Offender Psycho-Educational Program (SOPP)
Recreation: General Recreation
Religious Activities: Various Worship Services, Bible Study
Vocational/OJT:Food Preparation, Auto Detailing, Basic Computer Operation, Building Maintenance, Career Clerk, Cook Apprentice, Custodial Maintenance, General Office Clerk, Grounds Keeper, Warehouse or Store Clerk, Warehousing and Inventory Control, Correctional Industries Wood Products Manufacturing, Barbering, and Laundry Operations
DIRECTIONS:
Take I-75S to I-16 in Macon. Continue East toward Savannah to Exit 49 (Hwy 257 South) toward Dexter. Continue about seven miles to Dexter and another seven miles to Chester. When entering Chester, go straight at the stop sign on Caroline Avenue. Dodge State Prison is about ? mile on the right.