Columbus Transitional Center
Transitional Center
Additional Information
columbus-tc.jpg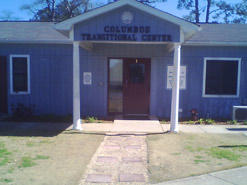 CAPACITY:182
OPENED: 2005
SECURITY LEVEL: MINIMUM
RENOVATED: 2006
MISSION:
To protect society by providing community residential services to residents prior to their discharge from incarceration. The primary goals are to develop self-discipline and promote skills required for positive re-entry into the community. Rutledge State Prison is the host facility
HOUSING:
Two units consisting of open bays for new arrivals and two & four man rooms for work release residents.
WORK DETAILS:
All residents are assigned to work details after an orientation phase.
PROGRAMS:
Academic: General Education Diploma, Workforce Readiness
Counseling: Individual/Group Counseling, Re-Entry, Moral Recognition Therapy, Matrix Model Early Recovery, Fatherhood Initiative
Recreation: General Recreation
Religious Activities: Worship Services (center and Local church/temples), Bible Study, Spiritual Counseling
Vocational/OJT:Re-Entry, Job Readiness, World Of Works, Vocational Rehabilitation Services, Veterans Administration, Department of Labor
DIRECTIONS:
Take I-85S to I-185 to Columbus. Take Exit 7, State Highway 22/80 East. Travel 6.2 miles and turn right onto Flat Rock Road. At the traffic light Flat Rock Road crosses Macon Road and Schatulga Road, travel approximately two miles and Columbus Transitional Center is located on the left.