Clayton Transitional Center
Transitional Center
Additional Information
clayton-tc.jpg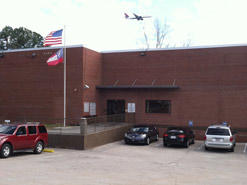 CONSTRUCTED: 2002
CAPACITY: 376
OPENED: 2004
SECURITY LEVEL: MINIMUM
MISSION:
Assist residents in making a successful transition back into the community by providing social and employment skills. Atlanta Transitional Center is the host facility.
HOUSING:
Two units with 376 residents. Unit one accommodates all orientation and phase I residents. Unit 2 accommodates advanced Phases II & III residents. The facility is handicapped accessible and meets ADA requirements.
WORK DETAILS:
Residents are assigned as permanent workers in food service, sanitation, building maintenance, barbering, laundry, vehicle maintenance and grounds keeping. The remaining residents are assigned to work release.
PROGRAMS:
Academic: General Education Diploma, Adult Basic Education, Literacy Remedial
Counseling: Pre-Release, Work Adjustment, Health Awareness, Employment Readiness, 12-Step Group, BASIC World of Works, Odyssey courses, Anger Management
Recreation: General Recreation
Religious Activities: Various Worship Services, Bible Study
Vocational/OJT:Food Services, Maintenance, Laundry and Barbering
DIRECTIONS:
Take I-75S to Exit 237, Forest Park/State Farmer's Market and turn right onto Forest Pkwy. Turn left at the first traffic light onto Frontage Road and turn right on the first street on the right, Falcon Drive; Clayton Transitional Center is the second building on the right.