Charles D. Hudson Transitional Center
Transitional Center
Additional Information
lagrange-tc.jpg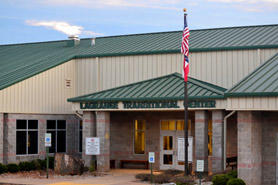 CONSTRUCTED: 2003
CAPACITY: 155
OPENED: 2003
SECURITY LEVEL: MINIMUM
MISSION:
To assist Residents in making a successful transition returning to the community by providing social skills and employment training. Rutledge State Prison is the host facility.
HOUSING:
Two dormitories consisting of four man rooms.
WORK DETAILS:
10 permanent residents provide food service, buildings and grounds maintenance and sanitation. The remaining residents are assigned to work release.
PROGRAMS:
Academic: General Education Diploma (Prep/Testing)
Counseling: Individual and Group Counseling, Odyssey Program, Basic World of Works, Residence Planning, Substance Abuse Education, Alcoholics Anonymous/Narcotics Anonymous, Fatherhood Services.
Recreation: General Recreation
Religious Activities: Various Worship Services, Bible Study, Pastoral Counseling
Vocational/OJT:  Maintenance Worker Lite, Food Service Lite, Line Cook Lite,  , Grounds Keeper, Laundry Housekeeper Lite & Fork Lift Certification. 
DIRECTIONS:
Take I-85S and exit at Hwy 109, Lafayette Pkwy. Turn left onto Hwy 109 and go under the expressway. At the next traffic light, turn right onto Callaway Church Road. Go approximately one mile to first road, turn right on Jim Hester Road and LaGrange Transitional Center is located at the end of the road.