Calhoun State Prison
State Prison
Additional Information
Calhoun.jpg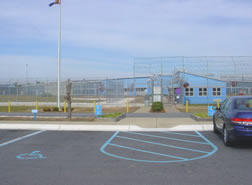 CONSTRUCTED: 1993
CAPACITY: 1,677
OPENED: 1994
SECURITY LEVEL: MEDIUM
RENOVATED: 2008
VISITATION DAYS / HOURS:
HOURS: 9:00AM TO 3:00PM
DAYS: Saturdays, Sundays, and State Holidays
MISSION:
To protect the general public, staff and offenders by providing a safe and humane living environment for medium and minimum security offenders through utilizing Principles of Effective Intervention: Risk Principle, Needs Principle, Responsivity Principle, Treatment Principle and Program Integrity. Primarily targeting offenders' criminal thinking, substance abuse, education and employment needs.
HOUSING:
Consists of nine housing units with 24 triple-bunked cells each and 24 double-bunked cells each. Eight open dormitories with a total of 480 beds. There are 95 segregation/isolation cells. This facility also houses a C.E.R.T. Team and a Fire Station.
OPEN DORMITORY
FAITH BASED DORMITORY
DOUBLE CELLS
TRIPLE CELLS
WORK DETAILS:
Calhoun County, Georgia State Patrol, Outside Maintenance, Outside Warehouse, Outside Grounds, Fire Station
PROGRAMS:
Academic: General Education Diploma, Adult Basic Education, Literacy Remedial, Correspondence Courses, English As A Second Language
Counseling: Family Violence, Motivation for Change, Re-Entry, Thinking for a Change, Moral Reconation Therapy, Sex Offender Psycho-Educational Program (SOPP), Exodus Stronghold (Chaplain), Matrix Relapse Prevention, Matrix Early Recovery, Lifers Group, Faith & Character Based Groups
Recreation: General Recreation
Religious Activities: Various Worship Services, Faith Character Based Program
Vocational/OJT:Forklift Operator, Food Service Worker, Horticulture, Sanitation, Building Maintenance, Barbering, Education Aide, Library Aide, Laundry, Grounds Keeping, Office Clerk, Career Clerk
DIRECTIONS:
Take I-75S to 475S (It will run back into I-75 south) to exit 127/Hwy 26 West. In Oglethorpe, turn left on Hwy 49 South. In Dawson, take Hwy 45 South. Stay on Hwy 45 until you reach Morgan and turn right at the first stop sign. Go to the next stop sign and turn right again. Take the 1st left onto Hwy 45, go about one mile and Calhoun State Prison will be on your right.