Burruss Correctional Training Ctr
State Prison
Additional Information
Burruss.jpg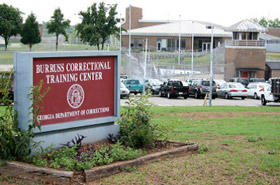 CONSTRUCTED: 1986
CAPACITY:806
GENERAL POPULATION:
OPENED:1986
VISITATION DAYS / HOURS:
HOURS: 9:00AM - 3:00PM
DAYS: Saturdays, Sundays and all State Holidays
MISSION:
Ensure public safety and effectively house offenders while operating a safe and secure facility. Provide work and rehabilitation programs for 650 General Population offenders. Provide offender labor for maintenance and operation of the Georgia Public Safety Training Center (GPSTC). Provide support for the Tift Campus, to include Mobile Construction Services. Housing capacity for 94 offenders sentenced as adults between 14 -16 years of age.Host facility for the West Central Integrated Treatment Facility.
HOUSING:
Consist of four buildings that are subdivided into four housing units each. Each unit contains 50 double-bunked cells on two tiers. This facility also houses a Fire Station and a Diagnostic Unit for youth offenders.
WORK DETAILS:
There are 24 Work details at Georgia Public Safety Training Center, 6 at Tift Campus, 3 at City Of Forsyth, 2 at Forestry, 2 at Dept. of Natural Resources, 3 at Dept. of Transportation, 1 detail each at Georgia State Patrol, D.O.C. Care and Custody Warehouse, Jackson National Guard Armory, Forsyth Police Dept., City of Barnesville, Butts. Co., the D.O.T. Weigh Station, Covington DOT, GDCP High-Max and Forsyth National Guard Armory and GDCP Grounds. There are 5 Mobile Construction Details at Tift and Fleet.
PROGRAMS:
Academic: General Education Diploma, Adult Basic Education, Literacy, Correspondence Courses, Title I and Special Education, Bartlett Reading, English As A Second Language
Counseling: Family Violence, Motivation for Change, Re-Entry, Thinking for a Change, Moral Reconation Therapy
Recreational: General Recreation, Wellness Walk
Religious Activities: Various Worship Services, Bible Study, Confronting Self Concepts, Heads Up, Kairos Reunion, Specialized Dorm "New Beginnings"
Vocational/OJT:Custodial, Food Preparation, Horticulture, Customer Service, Teacher Aides, Veterinarian Assistant (Guide Dog Program), Warehouse Management, Forklift Driver, Barbering, Food Service Preparation & Cooks
DIRECTIONS:
Take I-75S for approximately 60 miles to Exit 188. Exit and turn right at the stop sign onto North Lee Street. Go .5 miles and turn left, cross over the railroad tracks onto the Georgia Public Safety Training enter access road. Turn left into the entrance for the Georgia Public Safety Training Center. Turn right at the first four-way stop. Burruss Correctional Training Center will be on the right.