Autry State Prison
State Prison
Additional Information
autry-sp.jpg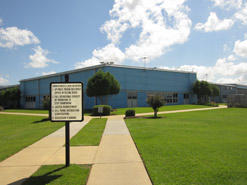 CONSTRUCTED: 1992
CAPACITY: 1698 
OPENED: 1992
SECURITY LEVEL: MEDIUM 
RENOVATED: 1998
VISITATION DAYS/HOURS:
DAYS: Saturdays, Sundays, and State Holidays
HOURS: 9:00AM TO 3:00PM
MISSION:
Ensure public safety and effectively house offenders while operating a safe and secure facility. House general population, medium security inmates due to their sentence, offense or behavior. Has a capacity for housing 650 Level II Mental Health inmates, a 96-bed In-House Transitional Unit and a 42-bed Accommodated Living Unit. Host facility for Bainbridge Probation Substance Abuse Treatment Center.
HOUSING:
One building with four separate open-bunk dormitories. Each dormitory consists of 38 double bunks. Six buildings with two living units containing 96 beds each. Three living units in these buildings have triple bunks on the bottom range only. One other building consists of 86 beds for segregation and 47 beds for isolation and protective custody. This facility also houses a C.E.R.T. team, a Tactical Squad and a Fire Station.
WORK DETAILS:
Autry Grounds & Maintenance, Correctional Industries Boot Plant, 10-man unit Fire Station
PROGRAMS:
Academic: GED, ABE, Literacy Remedial Education
Counseling: Re-Entry Skills Building, Lifers Group, Family Violence, Health Awareness, Matrix Early Recovery Skills, Matrix Relapse Prevention, Moral Reconation Therapy, Thinking for a Change, Alcohol Anonymous (AA), Narcotics Anonymous(NA), Motivation for Change
Faith & Character Program
Recreation: General Recreation, Leisure Skills
Religious Activities: Various Worship Services, Bible Study, & Inmate Choir
Vocational/OJT: Footwear Manufacturing, Food Preparation, Barbering, Laundry, Office Clerk, Basic Computer, Career Guidance Clerk, Automobile Detail, Painting, Sanitation, Library Aide, Horticulture
DIRECTIONS:
I-75S to Exit 99, GA-FLA Pkwy/GA 300 to Cordele. Go right on Hwy 300 to first traffic light in Albany and then turn right on Hwy 19 South to Mitchell County. Just past mile marker 9, turn left onto Mt. Zion Church Road. Autry State Prison is approximately one mile on the right.