Augusta Transitional Center
Transitional Center
Additional Information
augusta_tc.jpg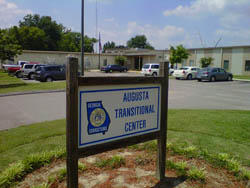 POPULATION: ADULT MALE FELONS
CONSTRUCTED: 2002
CAPACITY: 230
OPENED: 2002
SECURITY LEVEL: MINIMUM
MISSION:
Assist residents in making a successful transition back into the community by providing social and employment skills. Augusta State Medical Prison is the host facility.
HOUSING:
A single floor with two, four and eight-man rooms. The two-man rooms are handicapped accessible.
WORK DETAILS:
12 residents are assigned as permanent workers in food service, sanitation and building maintenance. 173 residents are assigned to work release.
PROGRAMS:
Academic: General Education Diploma, Adult Basic Education, Literacy
Counseling: Odyssey Program, Fatherhood, Housing Services, Public Health, Work Ethics, Job Readiness, 12-Step Groups, Celebrate Recovery, and BASICS World Of Work
Recreation: General Recreation, Community Volunteer Work
Religious Activities: Various Worship Services, Bible Study, Taleem, Gospel Choir
Vocational/OJT: Food Services, Maintenance, Laundry, Barbering, OSHA, Forklift, Servsafe
DIRECTIONS:
From the Atlanta Area, Take I-20E to exit 199, Washington Road. Turn right and proceed approximately five miles. Washington Road will become Calhoun Expressway and as you come off the bridge, it becomes Greene Street. Turn right on Seventh Street and then left onto Taylor Street. The Augusta Transitional Center is on the left at the corner of Sixth and Taylor.