Augusta State Med. Prison
State Prison
Additional Information
augusta_mc.jpg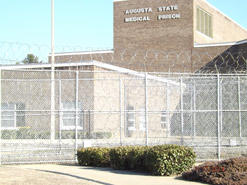 POPULATION:ADULT MALE FELONS
CONSTRUCTED: 1982
CAPACITY:1326 
OPENED:1983
SECURITY LEVEL:CLOSE 
VISITATION DAYS / HOURS:
General Population:
Days: Saturday and Sunday
Hours: 9:00AM - 3:00PM
Inmates in Protective Custody/Segregation:
Days: Tuesday and Wednesday (Visitors only allowed one visit per week)
Hours: 9:00AM - 3:00PM
MISSION:
Ensure public safety and effectively house offenders while operating a safe and secure facility. Provide centralized acute, specialized medical and Level IV Mental Health services for male and female offenders primarily as transient. House severe medical cases. Sex Offender release site and host facility for the Augusta Transitional Center.
HOUSING:
Four living units are divided into two separate units. Each has a support building that contains a multi-purpose room and a counseling office. One open dorm consisting of 519 beds with 192 beds designated for assisted living. Seven nursing units have a security control room, single patient rooms, seven bed Crisis Stabilization Unit and central dining hall along with an Acute Care Unit. Mental Health Support building utilizes dining area. Fast Track building is a 256 bed unit (double bunk). This facility also houses a Special Management Unit, Diagnostic Unit, C.E.R.T. team and a Tactical Squad.
WORK DETAILS
Georgia State Patrol, Georgia Department of Transportation Weigh Station, In-house Maintenance & Custodial Details, Outside Warehouse, Outside Maintenance
PROGRAMS:
Academic: GED, ABE, and Literacy/Remedial
Counseling: Motivation for Change, Thinking for a Change, Moral Reconation Therapy, Matrix Early Recovery Skills & Relapse Prevention, Activity Therapy, Sex Offender Psycho-Educational Program (SOPP), Re-Entry Skill Building, TOPSTEPP, Specialized Groups for Mental Health
In-Reach
Recreation: General Recreation
Religious Activities: Various Worship Services, Bible Study, Prayer Group
Mental Health
Vocational/OJT: Food Preparation, Barbering, Laundry Services, Custodial Maintenance
Scope of Service
500 Augusta University employees, faculty and staff, and contractors provide care to offenders from throughout the state of Georgia. ASMP is a 95-bed acute care hospital that provides the following services:
Hospital
Surgery Center
Multi-specialty Clinic
Special Mental Health Treatment Units
-Dementia and Traumatic Brain injury
-SMI with Severe Personality Disorder
-Seriously Mentally Ill (SMI)
Mental Health
Dialysis
Dental
Skilled Nursing Care
Hospice
Inpatient Care
Pre/Post op
Sleep Studies
TB
95 Beds
-Acute Care Infirmaries (2X20 Beds)
-Long Term Care Infirmary (20 Beds)
-Pre and Post-OP Infirmary (15 Beds)
-Accommodative Living Unit (20 Beds)
Mental Health Care
Mental Health Population – approximately 602 offenders
Supportive Living Units: Levels 3 & 4
CSU Beds – 35 Total
1 X 20 beds
1 X 15 beds
MH Outpatient Services
Dementia Unit
Primary Care and Chronic Care Services:
Augusta University Medical Center Satellite Clinics (340B)
Palliative Care
Large Chronic Care Clinic
Statewide Center for Dialysis (Males)
Statewide Rule-Out TB (28 Negative Pressure Rooms)
Regional Pharmacy
Telemedicine Hub
Multiple Preventive & Primary Care Clinics
Oral Surgery and General Dentistry
Clinical Dietician Services
Population Medication
Telepsychiatry
Surgical Services
Non-Emergent Same Day Surgery
Orthopedics
Maxi facial
Neurosurgery
Plastic Surgery
Vascular
ENT
Urology
Ophthalmology
DIRECTIONS:
Take I-20 East to Exit 190, approximately 138 miles. Turn right onto Horizon South Pkwy. Travel about two miles. You will pass Serta Mattress and John Deere Tractor plant. The next intersection is Wrightsboro Road. Continue through this intersection and onto Katherine Street. Follow this road and it will end at Robinson Avenue. Turn left onto Robinson Avenue and at the next red light turn right onto Gordon Hwy. Travel .8 miles to the prison entrance and turn right before the railroad trestle.